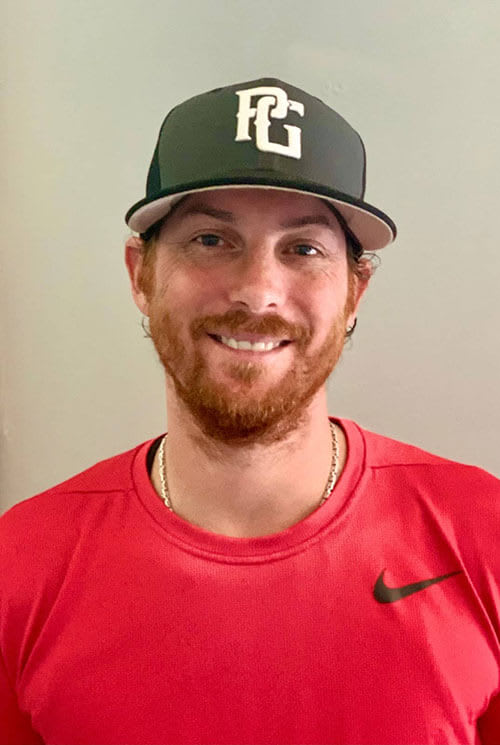 Justin Rosen
"I don't throw the whole kitchen sink at players when I am coaching. I might see several things to work on, but I want them to learn the right way at the right pace. Overwhelming them doesn't help them and doesn't make you a good coach."
Justin's been with CRTR for 15 years and has learned a lot in his time here. He grew up Wildwood, MO and went to Marquette HS where he played varsity as a Sophomore. Giving back to parents and players is important and personal. "I played with Rick back in 2002. My dad was coaching me when Rick reached out and asked if I wanted to play the JUCO circuit. Coaches can have a huge impact on you."
Justin's dad was drafted out of high school and instilled in him a great work ethic and a love of practice. "I didn't have a lot of downtime. I had a ton of passion and I played a lot! He taught me how to act on and off the field. How to respect the game. I do the same for my players." Justin played college ball at the University of Mobile and understands what competition and preparation look like at the next level.
For high school players looking to play in college, Justin is a great guide. He relies on tech and experience. He knows that HS players are looking for an edge and understand the data behind their swing. "Knowing your numbers is important. Launch angle. Exit velocity. Swing mechanics. The older players are looking to put it all together to produce harder contact and I can break it down for them."
For younger players looking to improve their game, Justin's been a youth coach and knows an individual approach to player development is better than a cookie-cutter approach. "The basics are really important. You've got to nail them. Move your feet, have soft hands, keep your butt down, and get your hands out." He reminds players not to make things more difficult than they really are"
For players and parents looking for a patient, experienced eye to help guide them, Justin invests his time in development. Reach out to him now for an assessment to get started.
Favorite Quote
"Don't think, just react."
Best Coaching Advice
"Put your nose to the grind and keep working. If you are good, coaches will find you."
Favorite Players
Christian Yelich, Mike Trout, Fernando Tatis Jr, Ken Griffey Jr., Cal Ripken
Craziest Thing I've Seen on a Baseball Field
"Our hitter had a collision with the opposing team's first baseman while running to the base. Their guy makes the tag. Inning over. He's the first kid up to lead off the inning. Our pitcher gets him to an 0-2 count and out of nowhere, he helicopters the bat at our pitcher! Can't make that stuff up! Our pitcher is safe, but the batter's mom starts yelling and the other coach and I had to calm everybody down. Crazy! You have to respect the game. Fortunately, the other coach was cool and told us that's not what our program is about."